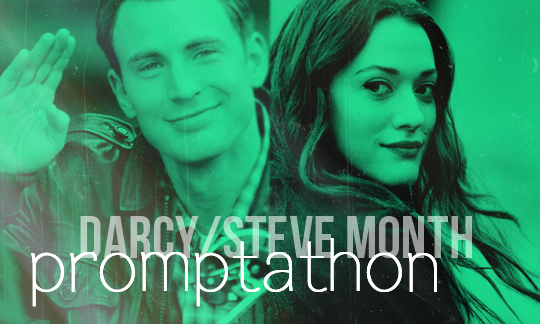 What better way to kick off Darcy/Steve Month on tumblr than to have a promptathon?
Anon commenting is on, so even if you don't have a dreamwidth account, you're more than welcome to participate!
How does it work?
When leaving a prompt, leave a comment on this entry using the following format:
in the subject line: Character(s)/Ship, gist of prompt [trigger if applicable]

Then in the comment section, you can expound to your heart's content! If you're prompting another fanwork as inspiration, especially a piece of fanart, please link to that piece. And please please please be considerate abouttriggers! It probably goes without saying, but all prompts must be Darcy/Steve-centric!

When filling a prompt, reply to the comment and put [FILL] in the subject line, followed by the character/ship, title of fic (if you want) [trigger warning if applicable], and either write out your fill in the body of the comment or put in a link where other people can read/see it and leave you love! Multiple fills are welcome!
See a prompt you like? Tell the prompter! See a fic or fanwork you like? Definitely tell the creator! It's all about spreading the Darcy/Steve love here and just having fun with fandom! I probably don't need to say this, but bashing will not be tolerated. That means bashing of characters, ships, prompts, artists, writers, what-have-you. Comments containing any of that will be deleted.


The promptathon will run for the whole month of October. After October 31st, prompting will close, but you are more than welcome to keep answering prompts! Did I leave anything out? Still have a question? Comment in the question section below, message me here, or on
tumblr
. Now go forth and prompt!